Newfoundland and Labrador's largest health authority is hoping technology can help patients with heart and respiratory problems get medical assistance without ever having to leave their homes.
Eastern Health is offering a new program called Remote Patient Monitoring, which involves patients using an iPad, blood pressure cuff, weigh scale and a device to measure oxygen levels — which then records the information and transmits it to a group of registered nurses.
"It's in real-time, so the vital signs and some symptom question answers are transmitted into the registered nurses," said program manager Kim Ghaney.
"If they fall outside any pre-established thresholds that were set for the patient, they contact the patient to delve a little further into what the issue may be so that they can provide advice, support and intervention, if needed."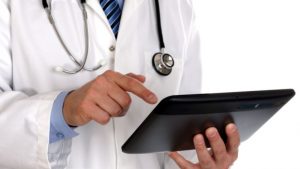 Eastern Health insists Remote Patient Monitoring is not meant to replace regular checkups. (iStock)
Ghaney said Eastern Health is going ahead with the program as a way to combat challenges associated with an aging population and a high rate of chronic disease. As well, she said it will free up resources at health facilities and help patients self-manage and catch symptoms early on.
"We have to look at innovative ways to address that issue and improve a patient's quality of life," she said. "As well as provide a more cost-effective means to provide quality healthcare — and to improve access, which is a Eastern Health strategic priority."
Not replacement for checkups
Ghaney went on to say that right now the program is only for patients with confirmed diagnoses of chronic obstructive pulmonary disease (COPD) and heart failure, which are the highest volume of admissions Eastern Health deals with.
She also said the program is not a replacement for regular checkups, and that if patients notice something outside the normal threshold then a nurse will flag it and give appropriate advice, such as going to an emergency room.
With files from the St. John's Morning Show